Hey y'all!!I hope you all had a great weekend!No bragging but I had an awesome weekend and the climax of it all was my country striking gold in the Olympics. Ok. we were expecting some medals but when the races started and we kept loosing or getting the silver and bronze, everyone was a little disappointed. Some even lost hope. But not me. If you knew me, you would know that I never ever give up. I might feel disappointed for a minute or two but I always know that things will get better.
That is why I was over excited for the 3,000 Steeplechase since we always win that one. And the winner is kinda the funniest runner I've seen in a while. Ezekiel Kemboi.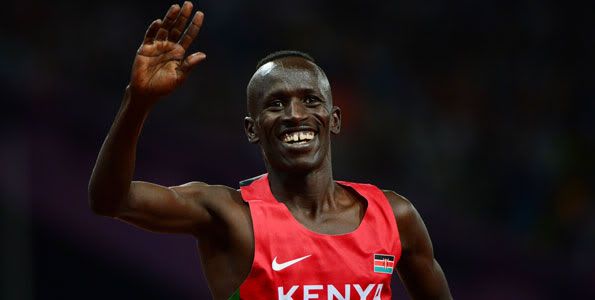 He is now kind of a hero around these parts.
see what I told ya, funny!!Oh, and skinny too!
Moreover, we also won bronze and I believe we would have had a clean sweep of the medals had Brimin Kipruto not tripped in the last lap.
To say the least, am so happy and so proud of #TeamKenya. You might think am the one who won the medals. While they were running and sweating like hell, I was watching at the comfort of my house. But the cheering went on and on for a few hours. So, people thats a wrap for now. I would have talked about Saturday and how I spent it washing the hugest load of laundry but winning gold at the Olympics took over my life.
Until tomorrow, when I get a hold of my excitement, Bye!
Go #TeamKenya